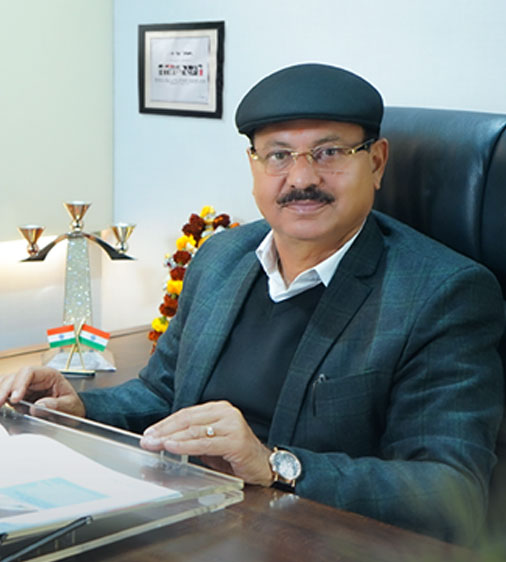 Mr V K Sharma
Chairman
Aster Institutions
Leading From the Front
"If i can help anyone,
i should do it without making any noise about it."
Mr V K Sharma, The Chairman & Managing Director of the Aster Group of Institutions, born and brought up in Delhi, had a very humble background. In spite of the early financial struggles, Mr Sharma always remained a high achiever in academics.
Exhibiting a stellar performance he was the topper in his school in the class 12th borad examinations, got a Bachelors Degree in Commerce (Hons.) from the prestigious Bhagat Singh College, Delhi University. He did his LLB from Law Faculty, Delhi University. Thereafter, he honed his professional skills by working with well-known names from a range of industries handling responsible leader ship profiles.
Mr Sharma's passion for education made him commence his journey in the field of education in the year 1994 by establishing the Aster Group of Institutions.
Mr Sharma's special skill sets bring in unique perspectives to the field of education. Since he has worked hard in the professional world earning laurels to his name, there is a lot in him that would inspire many, particularly those preparing to achieve big in the real world.
The definition of success thus acquires new dimensions under the leadership of the Honourable Chairman as he puts it in his own words, "the happiness of life depends upon the quality one's thoughts."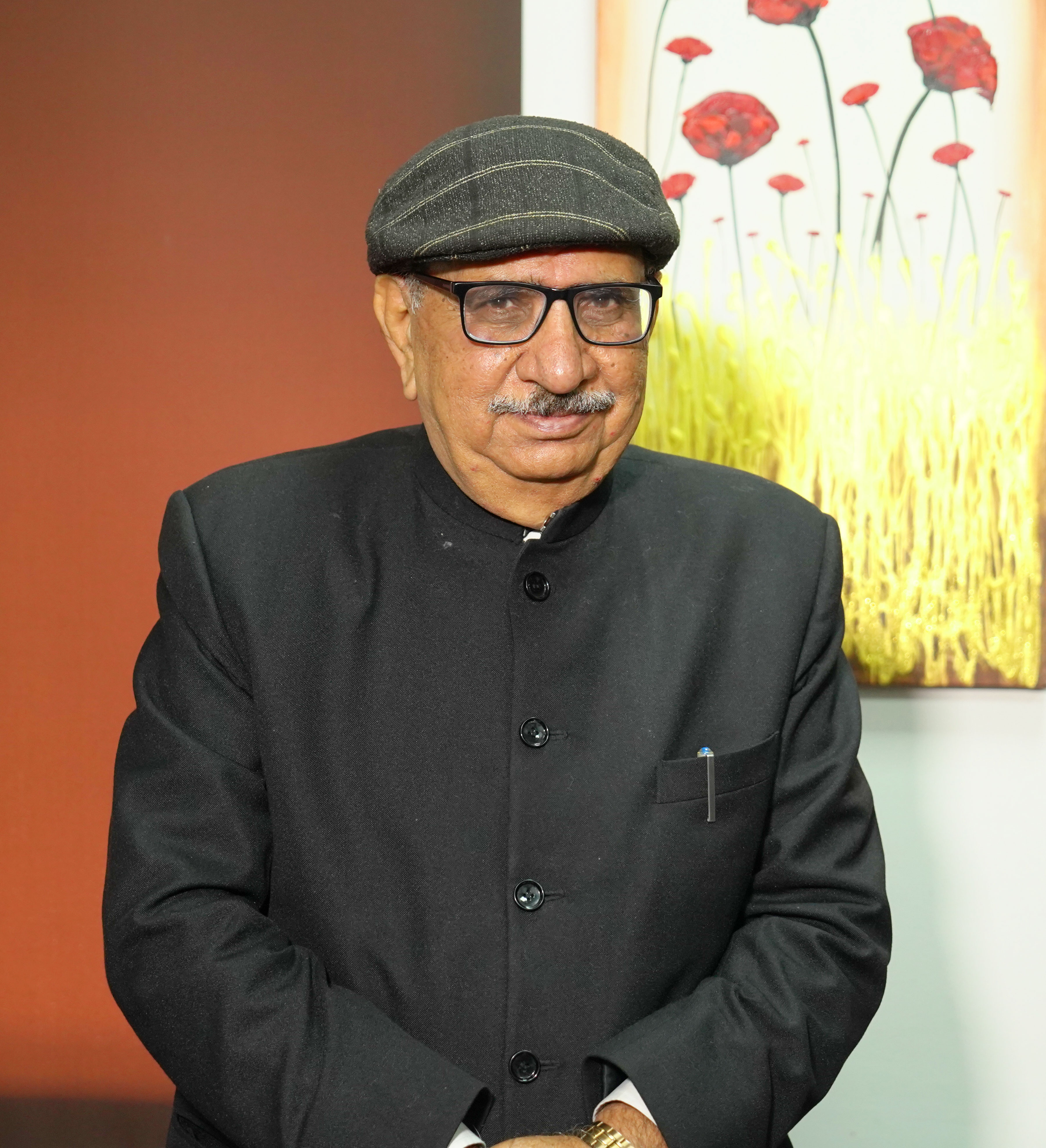 Mr S P Singh
Academic Advisor
Aster Institutions
Mr SP Singh has a varied and wide experience of five decades in the field of education. He started his carrier as an Assistant Professor in a postgraduate college and then worked in Rashtriya Indian Military College Dehradun, one of the most prestigious colleges of the Ministry of Defence. He worked in Kendriya Vidyalaya Sangathan for 19 years in various states. Mr Singh had joined the Directorate of Education GNCT in Delhi as Principal through UPSC New Delhi in 1993. He is also the founder Principal of Rajkiya Pratibha Vikas Vidyalaya Gandhi Nagar Delhi. A state awardee, Mr Singh has also worked as Dy. Director of Education GNCT Delhi up to 2008. Since 2008 Mr Singh has been working as an Academic Advisor for Aster Institutions. His contributions are insurmountable in raising the standard of Aster Institutions in general and its academic standard in particular.
Dr. Sharbari Banerjee
Principal, Noida Extension
Aster Public School
Dr Sharbari Banerjee is the principal of the prestigious Aster Public School situated in Greater Noida West, with more than 4000 children since February 2014.
A PhD in Cytogenetics, her schooling was from Loreto Convent, Ranchi followed by her Graduation and Masters from Banaras Hindu University in Varanasi, India. Apart from being a dedicated Principal, she is a community leader, CBSE National and International Trainer, Motivational Speaker, a voracious reader, an ardent nature lover and a writer.
She has won several awards including the prestigious Principal of the year award by Universal Mentors Association.
She believes in holistic education and in creating empathetic, happy and confident future citizens of a peaceful world.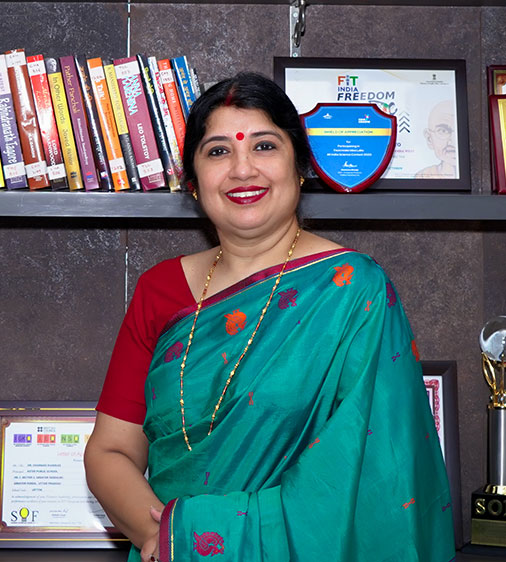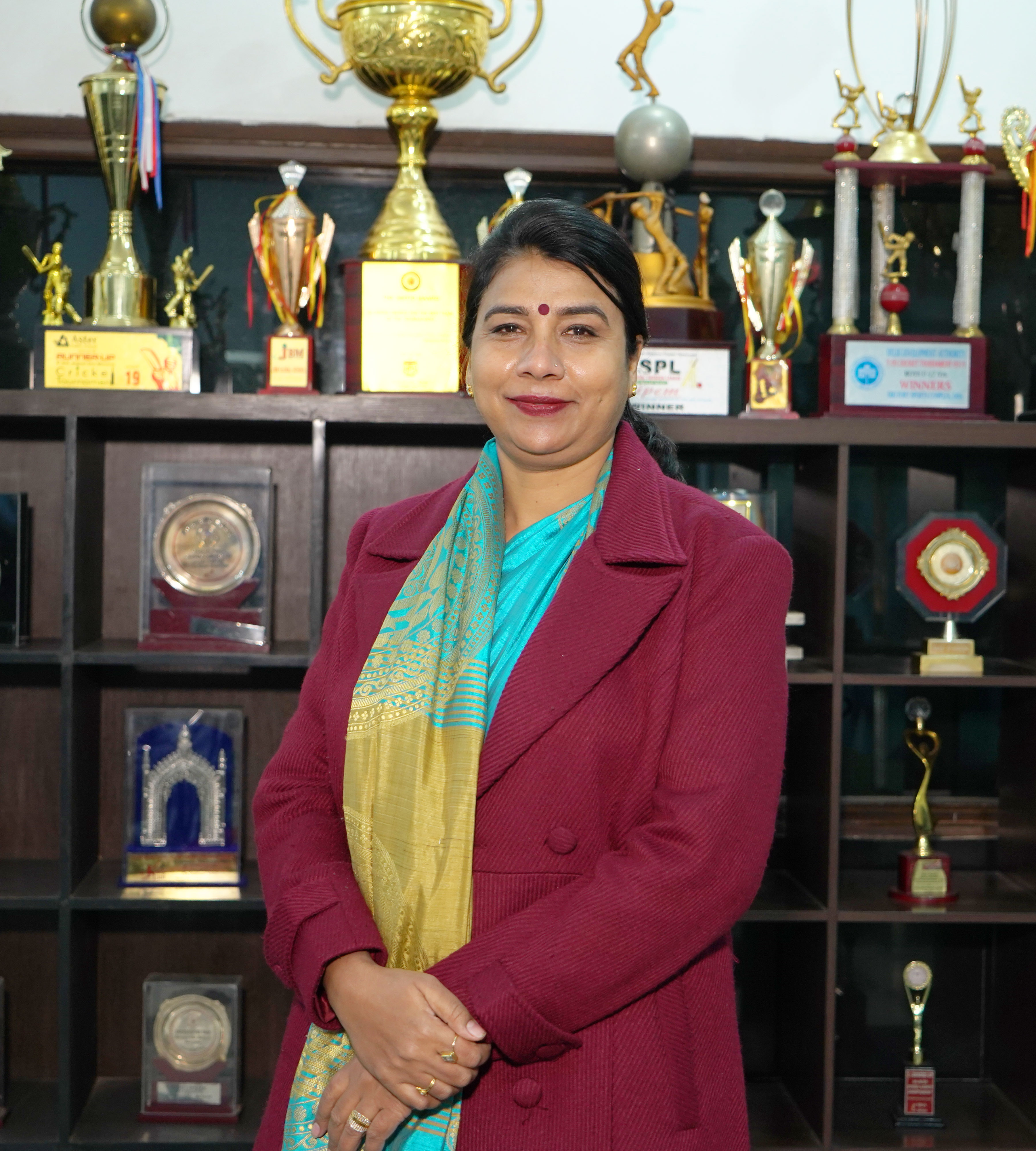 Mrs. Preeti Sharma
Principal, Greater Noida
Aster Public School
Mrs Priti Sharma is a MA, B.Ed by education. Having worked as an educator for more than 20 years she is experienced in building responsible citizens out of any given stock of students. She holds a commendable reputation for putting her learners on successful career paths.
Mrs. Sonia Khanna
Principal, Mayur Vihar
Aster Public School
Mrs. Sonia Khanna is a religious and socially conscious person. Being human, is one of the quality this great academician possesses. Her experience in this position is spread over 20+years. Her outstanding quality is that she works shoulder to shoulder is an exemplary quality of this educationist. She is the vision behind the visionary. She walks that extra mile to help and support special children with learning disability. The blended and inclusive learning are her pet projects. A person who is ready to take up challenges with indomitable spirit, a firm believer that there is light at the end of the tunnel. A voracious reader reads books of great thinker's. She has also authored numerous books based on the curriculum. Her passion, dedication perseverance and determination is the testimony of her achievements.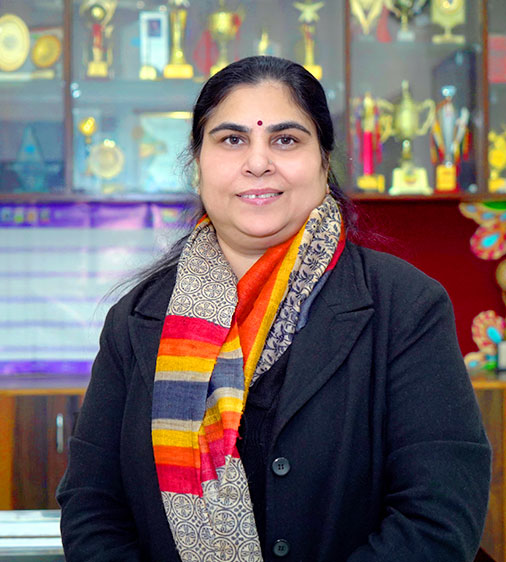 Mrs. Sangeeta Banerji
Principal, KP-5
Aster Public School
Mrs Sangeeta Banerji is a post-graduate in economics and has 27 years of teaching experience. Contributing effectively as a motivator and a friend, she has been proactively bringing about positive and holistic growth and development in all who approach her for guidance.
Mrs. Purvika Solanki
Principal, Surat
White Lotus International School
Mrs Purvika Solanki is an MA, B.Ed. with an extensive work experience of 24 yrs. After indulging with students in helping them prepare for their wholesome future, she has been proactively contributing to leading educative institutions as Principal, since the past 6 yrs.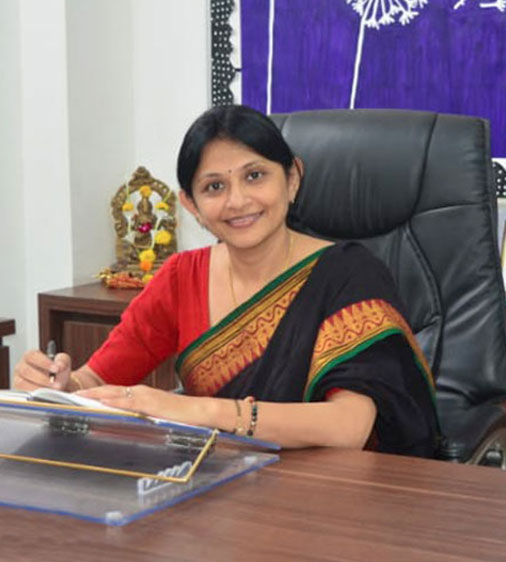 Prof (Dr) Seema Sharma
Principal, Greater Noida
Aster College of Education
Prof (Dr) Seema Sharma is a post-graduate in Economics and Education. With a total teaching experience of over two decades, she holds a proven track record in leading and effecting the training and education of teachers at the graduate and post-graduate levels for well-known colleges. An author of seven well-acclaimed books, her articles get regularly published in well-known educative and science journals.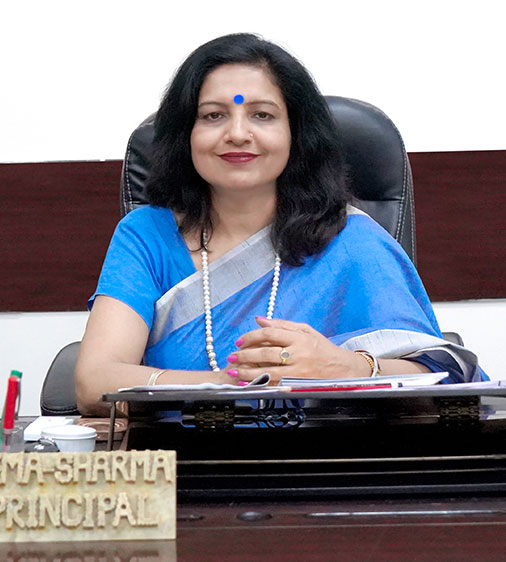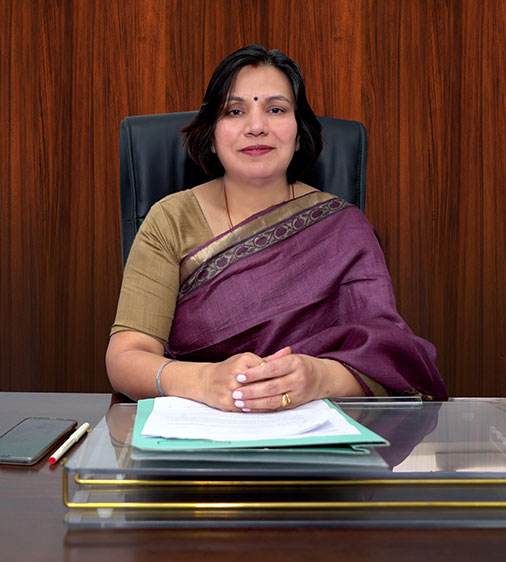 Mrs. Manju Rani
Vice Principal, KP-5
Aster Public School
An M.Sc. in Botany from Annamalai University, MTA from IITM Gwalior, B.Ed. from Government College Jiwaji University and a Diploma in French language, Mrs Manju Rani is a versatile professional with expansive knowledge and experience. With an overall teaching experience of 23 years, she has been associated with Aster Institutions for more than 12 years. Starting her career at Aster as the Examination DepartmentHead, a position that she well served for 7 years, she went on to become the Academic Incharge for the following 6 years. Her penchant lies in finding new and innovative ways to make the every-day educative curriculum more enticing and engaging for students, thereby leading to their optimum development. She believes that to impart the right mix of in-class and out-of-class learning opportunities one must first create optimum learning environments. She delights in painting, sketching and reading and promotes the development of good habits for lifelong learning.
Mr. Jaivir Singh
Vice Pricipal, Gr. Noida
Aster Public School
Mr Jaivir Dagar is an LLB from CCS University Meerut, M.Sc. Mathematics and a B.Ed. from NAS Degree College Meerut. Having 22 years of rich experience in teaching he has been deeply involved with keeping his students on high achievement paths. With exposure to not just the academic but also the co-curricular aspects of education, Mr Dagar has seen it all as to how to keep his students motivated by balancing classroom teaching with sports activities. This healthy blend of mixing the mundane with the exotics of the outdoors has rendered him a niche amongst his students. Since Mr Dagar's own learning experience spans across the practicals too along with the theoretical, so he offers the same blend of learning with practice to his students. Having rich, in-depth and expansive experience of managing the school activities, he is today aptly given charge to handle the exceptions.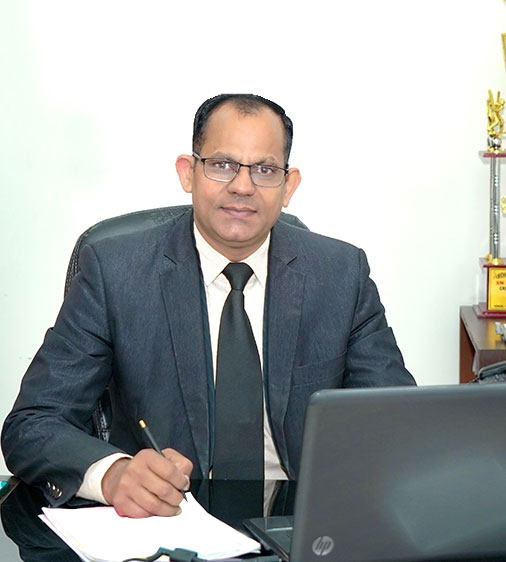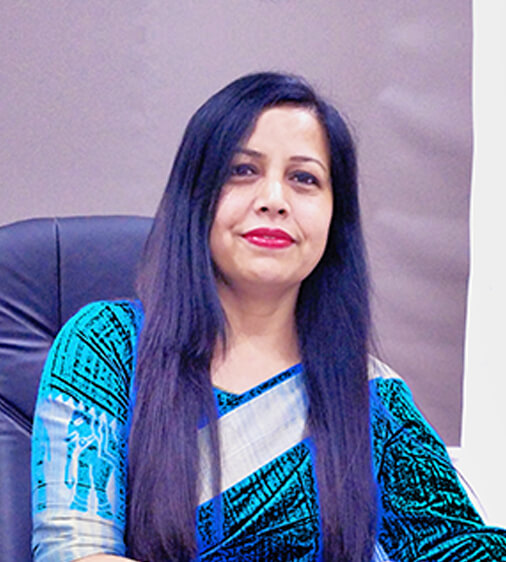 Mrs. Rachna Shukla
Vice Principal, Noida Ext.
Aster Public School
Mrs Rachna Shukla is an M.Sc. and a B.Sc. in Mathematics from Bundelkhand University Jhansi, UP and a B.Ed. from CSJM University, Kanpur. With an illustrious 18-year experience in teaching and expansive indulgence with managing all activities of schools for well- known educative brands spanning northern India, she has been a sparkling example of professionalism. Mrs Shukla is an adept supervisor who is experienced in designing curriculums, can evaluate students' performances through multi-gauge analytical tools to arrive at comprehensive conclusions. An excellent communicator with good supervisory and monitoring skills, she possesses strong management, interpersonal and organisational skills that go far in furthering the objectives of educational institutions.
Mr. Afzal Ahmad (International Hockey Player)
Sports Director
Aster Institutions
Mr Afzal Ahmad is an accomplished fitness and sports trainer. He has the distinction of working with well-known names across an array of sporting activities. He has been directly associated with cricket, tennis, hockey and football, training national and international sports personalities like Paras Dogra, Ankita Bhambri, Yuki Bhambri, Tushar Khandekar and Jatin Singh Bisht to name a few. He has also worked with well-known coaches like Bishen Singh Bedi, Madan Lal, Bob Brate, Aditya Sachdeva and Vinod Kumar as a physical trainer. The national award-winning coaches in hockey that he has worked with are Mukesh Kumar (Padma Shree awardee) and Mr Harender Singh (Dronacharya awardee) as present coach USA Hockey Team. Mr Ahmad's educational qualifications include a BA from BR Ambedkar University Agra, a B.P.Ed., M.P.Ed. from CCS University Meerut and NIS in Gandhi Nagar Gujarat (hockey). He has also completed the AITA Level-1 Fitness Course.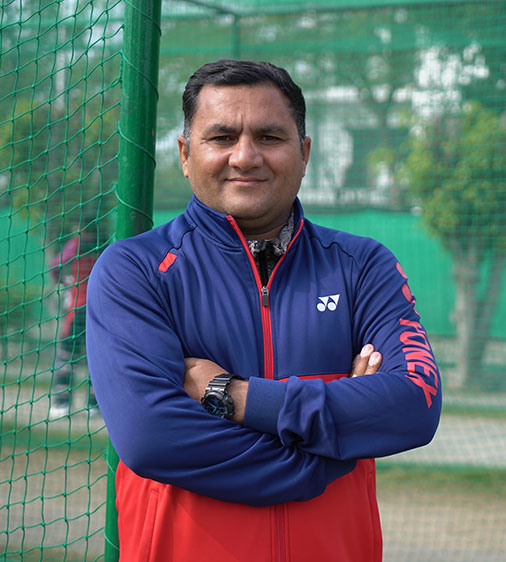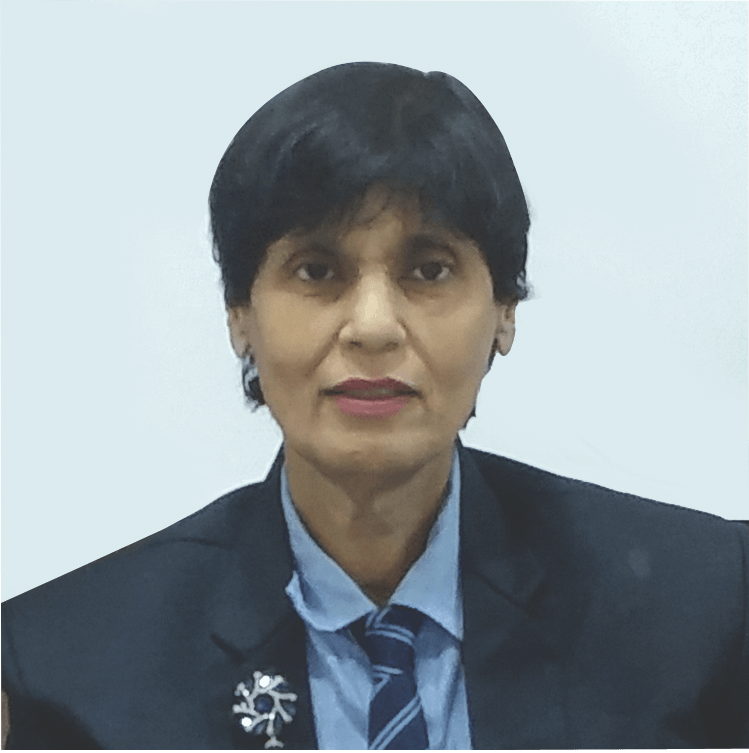 Ms Ameeta Engineer
Academic Counselor, Surat
White Lotus International School
A Bachelor of Arts from the prestigious St. Xavier's College Mumbai, Ms Ameeta Engineer has expansive and rich experience in dealing with the human behaviour. She has assisted renowned scholars with prestigious research works dealing with complexities of human behaviour and their reasons thereof. Ms Engineer has rich teaching experience and she is adept at handling the psychological issues faced by both school-going kids and their parents. This, coupled with her rich experiences in the corporate world, makes her extremely capable of working tirelessly to help the students maintain high performances, not just academically but also in the extra-curricular activities.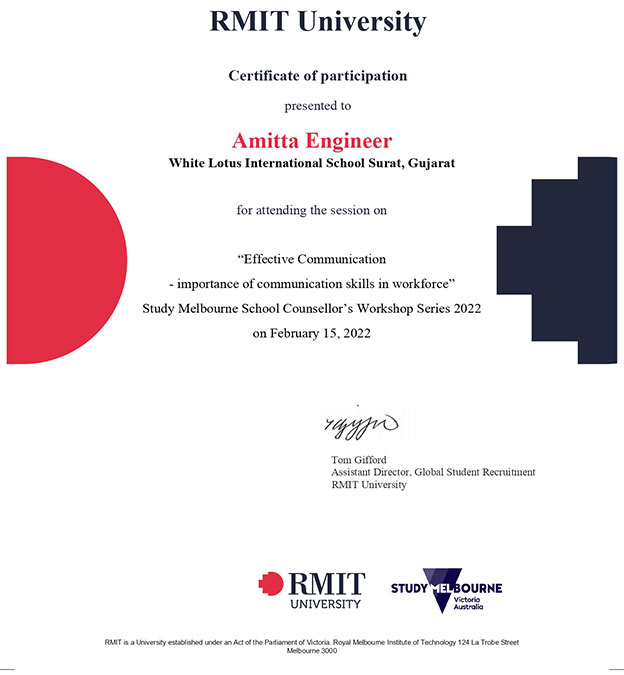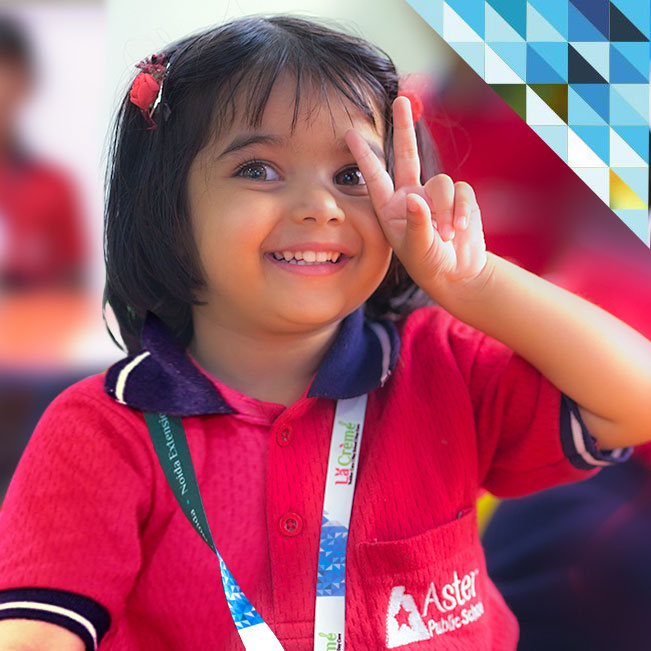 Need help with more
information?
We are just a phone call away.
80 10 10 90 90